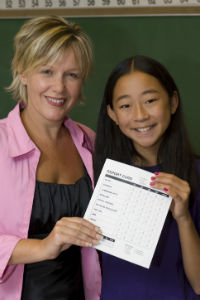 The Marian School is a program developed by experienced teachers who want to make high quality tutoring available to students with a personalized dimension.  We  promise to provide your student with a tutor who cares and is skilled enough to guarantee at least a one year's gain in achievement level through their contract, or tutoring without charge until that achievement level is reached.
We want to distinguish ourselves from large, impersonal tutoring programs that  provide a " tutor on duty" who does not have a personal relationship with the student, and the understanding of the student's unique instructional needs that stems from that personal relationship.  The program provides one-to-one tutoring or small-group tutoring that makes this ideal instructional relationship possible.
The tutoring can be provided in a school setting, at a student's home, or online, using a web-conferencing program that makes it possible for the tutor and student to see each other's desktops and work together interactively.
Lead teachers have masters degrees in special education, and in bilingual instruction, which means that we are experienced working with students who have needs for remediation and multisensory learning approaches.  We have an understanding of students who have auditory processing problems, visual processing problems, developmental delays, autism, dyslexia, and memory issues.  We can draw on twenty years of experience, and a variety of instructional and software programs which can be used to provide just the right individualized instructional approach for each student.  We make sure that we assess carefully and often to make sure that students are making appropriate progress while in the program.
You can have be sure that your student will improve skills and develop confidence in their abilities as they work with Marian School tutors.